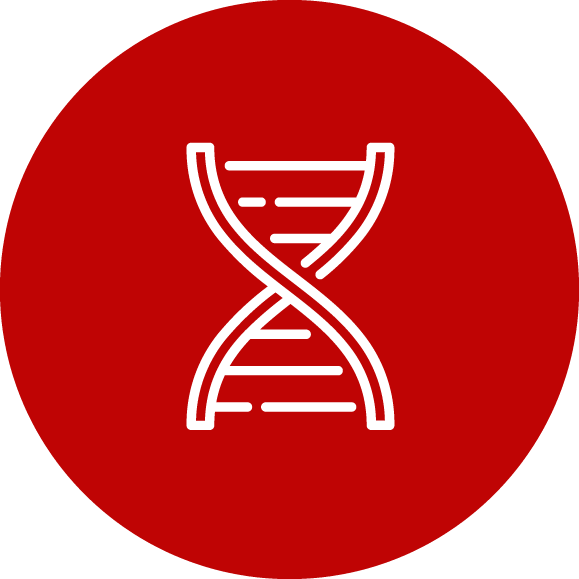 New technology allows us to test someone's DNA better than ever before. Science is evolving at a rapid pace – and this means more answers are coming by the day from what is tucked inside things like genes, alleles, chromosomes and molecules.
DNA is paving the way to the future.
When you need to undergo a DNA test, for whatever reason, you may be curious as to how the process works. Well, simply put, DNA or genetic testing is a science. DNA testing is used to identify changes in the DNA sequence or chromosome structure. It can also be used to determine biological relatives, such as a child's parentage through DNA, predict an individual's familial relationships, ancestry, or help determine DNA matches for various forensic evidence.
The two most common methods for collecting a DNA sample are by drawing blood or using a cheek swab. The results from extracting DNA-rich cells via swabs or blood are exactly the same, but there are differences in how each of the two samples are processed. Deciding on which option depends on the type of DNA test required and the reasons for having the test. At Test Smartly Labs, we will discuss both options with you, and will advise you on which type of DNA test is best suited to your individual needs.
At Test Smartly Labs, we understand that DNA test results can be both extremely important and private. This is why we always handle DNA tests with the utmost care, discretion, and privacy. No matter what type of DNA test you or your family needs, Test Smartly Labs will guarantee secure sampling and accurate results.
If you don't recall the days of high school biology and chemistry – we'll give you a refresher.
DNA's long name is deoxyribonucleic acid. It's a molecule that carries an important code – the genetic code. DNA lives in the cells of your body. This code tells your body how to work and act. Your DNA impacts everything from your hair color to determining if you're at risk of certain diseases or if you carry a genetic disorder. Everything that lives (including plants and animals) carries DNA. While all humans have the same genes arranged in the same way, the few differences within our human genome are what make us different from one another, or in some cases (like ancestry DNA testing) it makes us the same.
Why would you need a DNA test?
Did you know there are many ways a DNA test can be extremely useful?
Research your ancestors and ethnicity
Find out certain things during pregnancy about an unborn baby
Research medical conditions
Collect your child's DNA to prepare for a "worst case scenario"
DNA testing can tell you a lot about a person or event!
Be prepared for your DNA or Paternity Test!
Bring Government Issued ID.
Bring Birth Certificate for Child. If none, bring a social security card, insurance card, or something else to help support identification.
Complete TSL Intake Form & HIPAA Disclosure.
Provide Authorizations to Receive Results.
Most DNA will require a Buccal Swab specimen from the mouth.
Prenatal DNA will require a Blood Draw so you will want to by hydrated.
Be prepared to have a photo taken of all parties being tested.
Do not eat anything (particularly meat, vegetables and breast milk for infants) for an hour before arriving.
You do not have to arrive together or go to the same Test Smartly. Labs Testing Center but do coordinate plans with all parties being tested.
What Are Your Hours?
All Test Smartly Labs are open Monday through Friday, from 9am - 5pm
The Overland Park Testing Center is also open from 9am – 1pm on Saturdays
Do We Need To Have An Appointment?
No appointment is required to come into our labs, and all of our locations are on a walk-in basis. However, it is recommended you arrive at least 30 minutes prior to closing. If your situation requires special time considerations, please call us to determine if it would be better to arrange an appointment time.
Do I Need Doctors' Orders For Testing?
No doctors' orders needed, we are a Direct-Access Testing Center. You are encouraged to consult your medical professional with your lab test results.
What's The Turnaround Time For Lab Work?
Average turnaround time is 2-5 business days depending on the complexity of the lab work. Most tests are available in 2-3 days.
Do You Need A List Of My Medications For A Drug Test?
Per protocol, the lab techs are not allowed to receive or ask for your medications. A medical review officer or MRO, a licensed physician who specializes in toxicology, will call you and ask for your medications and your physician's phone number if it's detected in your sample during testing. The MRO will then call your physician to verify your medications.
At Test Smartly Labs, we offer a variety of DNA testing, which fall under the categories below:
Relationship and Paternity Testing
As you can imagine, Relationship and Paternity DNA Testing mostly involve relatives wanting to learn more about their relationships with various family members.
Paternity & Maternity Testing: To prove or disprove that someone is or is not a father (paternity testing) or mother (maternity testing) of the child in question.
Grandparentage: This will prove or disprove someone is the father/mother or prove a biological relationship with a child by testing grandparents.
Siblingship Testing: This test will determine if two individuals are full or half siblings.
Twin Testing: To check if twins are fraternal or identical, also known as a twin zygosity test.
A Note On Paternity Testing
It's important to note that there are two types of paternity tests: legal and non-legal. The admissible version can be used in court, while the non-legal one involves performing the test in the privacy of your home by ordering a DNA kit from or a non-legal can also be done in a Testing Center. The latter is only relevant for personal knowledge and peace of mind and cannot be used to support a case in court.
If parental testing is needed for legal purposes such as immigration, custody, visitation, inheritance, or child support the test must be made with a professional DNA lab testing company such as Test Smartly Labs. This is because we are certified specimen collectors and partners with AABB accredited DNA laboratories. Although it may be the more expensive option, doing it right the first time could save you money in the long run.
Immigration DNA Testing
The U.S. government will accept DNA testing as proof of a biological relationship if other forms of credible proof such as legal documents, marriage certificates, and photos are not available. This is the only form of non-documentation the government will accept as proof of biological relationship for immigrant visas.
The government will only accept the following DNA tests to prove biological relationships:
Paternity Testing for Immigration: If you need to prove paternity for an immigration visa, Test Smartly Labs can help. Whether it's your child or the alleged father that is abroad, one of you will need to be in the U.S. in order for us to help.
Maternity Testing for Immigration: Proving the relationship between mother and child is one valid form of proof, the State Department will accept as proof for a biological relationship on an immigration visa. If you need to prove a family relationship and do not have other documentation, we can help.
Kinship Testing for Immigration: The only kinship testing for immigration that the U.S. Government has stated they will accept for immigrant visas is full or half-siblingship DNA tests. All other kinship tests to prove a biological relationship (like testing aunts, uncles, cousins, etc.) is not guaranteed to be accepted as the proof needed to approve a visa. Genetic tests to prove relationships to extended family members are not as reliable and therefore not accepted.
Forensic DNA Testing
Test Smartly Labs partners with various law enforcement agencies to handle sensitive samples and confidential information. Whether it's a criminal case or a natural disaster, we can collect specimens needed to run 100% accurate DNA tests. When collecting
DNA based on the Forensic Index, we can use anything from hair and saliva to semen and skin. Our Forensic DNA testing includes:
DNA Matching: DNA matching is a process that you would go through if you want to determine your ancestors – whether it's to determine your ancestry, ethnicity and/or members of your family tree.
Deceased DNA Matching: In the case where someone has died from either natural or unnatural causes, Test Smartly Labs can help if DNA matching is needed.
DNA Profiles for Children: The reasons vary as to why some parents request DNA profiles for children. Most often, they are planning for a worst-case scenario, like a kidnapping, or if the child runs away or goes missing, and would need to be identified.
Employee DNA Profiles: If your industry involves risk and an element of danger to your workers, we advise you to get employee DNA profiles. This can help you get your employees' DNA on record in the event they're involved in an accident where you'd need to profile them. This is especially important amongst industries like fire, police, mining–amongst others where tragic accidents and fatalities may occur.
Ancestry DNA Testing
Have you ever wondered where you come from? Or, where your ancestors originated from? While some families have maintained strong genealogical records detailing the stories of individuals from past generations, many do not have any idea where they come from. Did you know an Ancestry DNA Test can offer insights all with a simple cheek swab? With the ability to trace your bloodline from continent to continent, connect you with unknown family members, and identify medical predispositions, millions of people are choosing to take this simple, inexpensive, and non-invasive test to provide them with a glimpse into their heritage.
With the recent explosion in DNA research and access to rudimentary ancestry testing, a number of for-profit commercial companies have begun offering heritage identification products. Often an inferior product, these commercial DNA testing companies provide minimal data and information at an exaggerated cost – thus exploiting the natural curiosity of their clients. At Test Smartly Labs, we provide DNA Ancestry Testing that is superior to the mail-order offerings of our counterparts. With the ability to test for over 80,000 individual DNA markers, an interactive world map, and unique ancestral markers that simply cannot be found in modern commercial tests, Test Smartly Labs provides integrity, confidence, and affordability on your path to DNA ancestry clarity.
Our Ancestry DNA Testing includes:
Ethnicity DNA Testing: We offer the Ancestral Origins™ DNA genealogy test to help you understand the regions and populations your ancestors may have lived in.
Inheritance and Estate DNA Testing: In cases where inheritance wishes are not clearly stated, or there's a dispute, DNA testing may be useful.
Advanced DNA Testing for Overall Health
Advanced DNA Tests look for specific chromosomes, genes, or proteins to help with your overall health. Advanced DNA Testing can help to determine various diseases and conditions, as well as determine the potential risk of these diseases and conditions actually developing. If you are aware of these genetic predispositions, you are able to take the necessary measures to curb or even prevent them altogether. At Test Smartly Labs, we conduct the following Advanced DNA Tests:
Healthy Weight DNA Test: This test uses a proprietary algorithm that helps physicians to match the correct diet and exercise routine with an individual's specific genetic makeup.
Food & Pet Allergy DNA Test: There are several food and environmental sensitivities which can be found through Advanced DNA testing. These food sensitivities include gluten and wheat sensitivities, as well as intolerance to environmental factors like mold and pollen.
Healthy Skin DNA Test: A Skin DNA Test helps in determining the correct treatment for your skin, enabling better prevention or control of the aging process by looking at your unique genetic makeup.
When it comes to DNA testing, you need to partner with a company that's trustworthy and reliable. Clean and convenient, our testing centers provide exceptional customer service and fast turnaround times on lab results.
Testing Services and Solutions
Find your nearest location
Kansas City

Test Smartly Labs of

Kansas City

3917 Broadway Blvd, Suite A
Kansas City, MO 64111
United States

Opening Hours :
Mon - Fri : 9am - 5pm | Sat - Sun : Closed