Vitamin Deficiency Testing
Vitamins are critical to our health for many reasons. However, when you consider such examples like Vitamin D, according to a study published in JAMA Internal Medicine, up to 77% of Americans are deficient. What's striking is the study also found nearly all non-Hispanic blacks (97%) and most Mexican-Americans (90%) have vitamin D insufficiency. If you've not had your vitamin levels tested, Test Smartly Labs can help.
Symptoms of Vitamin Deficiency Can Be Easy to Ignore
We all have off days or weeks where we don't quite feel like ourselves. It's easy to ignore these days, but they may be a symptom of a deficiency. Or maybe you write off a change in your body, such as increased joint pain, as an expected sign of aging. However, these ongoing or occasional symptoms could be a sign of a deficiency due to a dietary change, or your body's changing need for nutrients. For example, those who live in a climate where there is a distinct winter with the low sun are aware that they may require a vitamin D supplement during the winter since they are not getting the vitamin D they need from sunlight. This can be, amongst other things, why you may feel more lethargic in the winter. With winter supplementation of vitamin D, the lethargy can reverse. Other symptoms of one or more nutrient deficiencies may include:
Fatigue
Shortness of breath
Dizziness
Pale or yellowish skin
Irregular heartbeats
Weight loss
Numbness or tingling in your hands and feet
Muscle weakness
Personality changes
Unsteady movements
Mental confusion or forgetfulness
Decreased immunity
And more
Order Your Vitamin Deficiency Tests Now!
Test Smartly Labs provides the most comprehensive lab testing available today that empowers you to take control of your health by ordering the tests you want, accelerating the process of better understanding your health. Test Smartly Labs results DO NOT eliminate the need for you to seek out regular health checkups or consult with your medical professional but we can save people time and money by empowering our clients to arrive at their next doctor's appointment with their lab test results in hand. This includes testing for vitamin deficiencies, hormone testing, allergy tests, metabolic tests, and more. Schedule your lab test now!
We appreciate your order and look forward to earning your business, please contact Test Smartly Labs today…
Why Test For Vitamin Deficiencies?
You read up on the latest in diet and nutrition and you eat 3-meals a day, including fruits and veggies. So, you can't possibly be nutrient deficient, right? While most of us think that nutrient deficiency only occurs in third-world countries, studies show that over 90% of people living in the United States are deficient in at least one vitamin or mineral. Wealth and health do not impact this statistic, which is why everyone should consider being tested for vitamin deficiencies. Here are just a couple reasons why so many of us are deficient.
Much of The Food We Eat Is Fake
Our schedules get busier by the second meaning that many of us eat a diet high in fast and easy processed foods. Foods that fill us up, have calories, fat, and sugar—but are often lacking in the balanced nutrients our body requires to thrive. When it comes to nutrients, calories don't count. In fact, even an obese person can be nutrient deficient. They may be overeating but aren't getting the nutrients they require. We aren't just referring to fast food, but much of what is sold in grocery stores. "Real food" is found mostly on the perimeter of the store in the average grocery store, and much of what is in the internal aisles falls into the "fake food" category. Most health food stores have higher standards for the food in their aisles.
Fad Diets Are Designed to Deprive
Due to our primarily processed food diets, obesity is on the rise. This leaves many turning to fad diets which are designed to deprive, not to nourish our bodies. While exercise is essential for health, diet is 90% of the weight loss and overall health equation. However, many fad diets are based on extreme caloric reduction which often dips so low that there is no way to consume the full-spectrum of vitamins and nutrients required to thrive. Even if weight loss is achieved, fad diets often leave those who diet hungry, irritable, low on energy, and decreased immunity. These are all symptoms of nutrient deficiencies. Vitamins and minerals keep our body balanced from the inside out, so when a deprivation diet is maintained over an extended period your deficiencies can worsen, cause, or contribute to a variety of chronic health conditions. For example, some high-fat low-carb diet significantly raises cholesterol for some, but not others.
Be prepared for your lab test:
Make sure you have been Fasting for at least 10-12 hours for many blood tests
Make sure you are Hydrated for blood draw
Complete TSL Intake Form & HIPAA Disclosure
Pay for your lab test upfront (We don't process insurance claims but can provide you with information to submit your own insurance claim)
If you are having specialized testing, call ahead to help us determine if there are special collection preparations.
If you are interested in one of our health panels, please feel free to look at our web listing to help identify which one you want performed.
Please try to arrive 30 minutes prior to business closing to allow us time to process your samples for shipment.
What Are Your Hours?
All Test Smartly Labs are open Monday through Friday, from 9am - 5pm
The Overland Park Testing Center is also open from 9am – 1pm on Saturdays
Do We Need To Have An Appointment?
No appointment is required to come into our labs, and all of our locations are on a walk-in basis. However, it is recommended you arrive at least 30 minutes prior to closing. If your situation requires special time considerations, please call us to determine if it would be better to arrange an appointment time.
Do I Need Doctors' Orders For Testing?
No doctors' orders needed, we are a Direct-Access Testing Center. You are encouraged to consult your medical professional with your lab test results.
What's The Turnaround Time For Lab Work?
Average turnaround time is 2-5 business days depending on the complexity of the lab work. Most tests are available in 2-3 days.
Do You Need A List Of My Medications For A Drug Test?
Per protocol, the lab techs are not allowed to receive or ask for your medications. A medical review officer or MRO, a licensed physician who specializes in toxicology, will call you and ask for your medications and your physician's phone number if it's detected in your sample during testing. The MRO will then call your physician to verify your medications.
What is Vitamin D and Why Is It So Important?
Vitamin D is both a hormone and a mineral, and it most often comes from the sun. Some, but very few, foods contain it. Most people are not getting enough of it. Why?
There are studies examining this, but one strong finding was:
"The increased inactivity and obesity in the US population has likely contributed to the observed rise in Vitamin D insufficiency."
Although many have an insufficient Vitamin D level, there are several supplements on the market that can help boost your Vitamin D level. Before you start taking supplements, get your Vitamin D levels checked.
Higher levels of Vitamin D can be tied to:
Better bone and teeth health
Better immune system and metabolism
Stronger memory
Lower risk of cardiovascular disease
Lower risk of cancer
Avoidance of many other major health conditions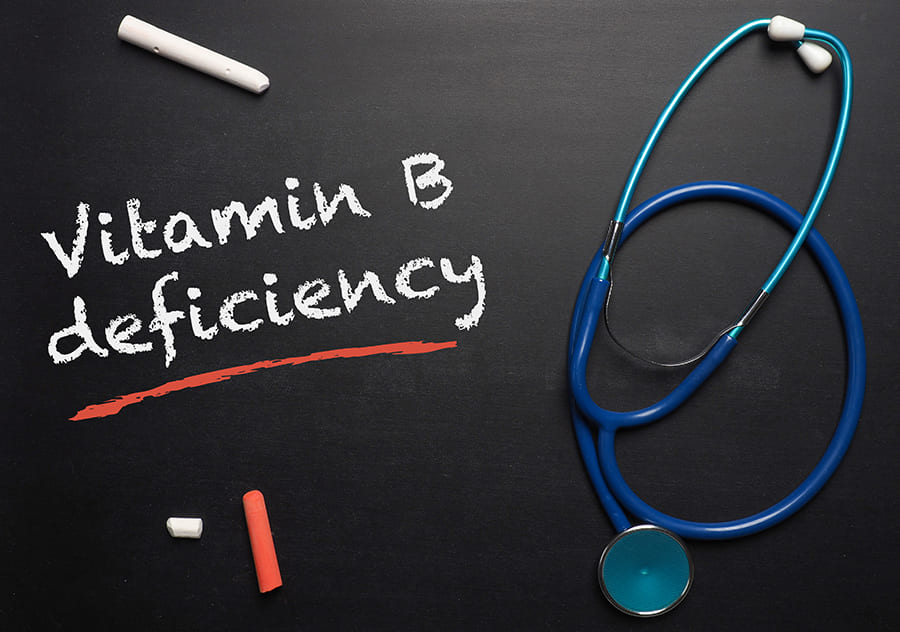 Vitamin B-12 is all about the brain. From your memory to your moods, checking your vitamin B-12 and folate levels may give you insight into how you've been feeling and why. It's also something doctors may check if you're anemic, have an abnormal CBC test, or if you've been experiencing signs of neuropathy. Before you hit up the vitamin section and start taking B-12, check your levels, and review them with a doctor. Test Smartly Labs is here to run your B-12 test for you. It's important to know B-12 can interact negatively with some medications. Plus, it's important to know if you're suffering from a deficiency before you self-manage your health.
Is a B-12 Vitamin Insufficiency Common?
According to the Mayo Clinic, "Low levels of a vitamin can result from eating a poor diet or not being able to absorb the vitamins you consume. Older adults, vegetarians, and people with digestive disorders such as celiac disease or Crohn's disease may have trouble getting enough B-12." Although B-12 may be a common occurrence in some, it's also found naturally in animal products like lean meats, eggs, fish, and milk – foods common to many diets. There are additional products on the shelf in supermarkets and nutritional supplements for B-12 that can help boost your levels if your report indicates you're low.
Testing Services and Solutions
Find your nearest location
Kansas City

Test Smartly Labs of

Kansas City

3917 Broadway Blvd, Suite A
Kansas City, MO 64111
United States

Opening Hours :
Mon - Fri : 9am - 5pm | Sat - Sun : Closed