Hormone Panel Comprehensive – Female
Sale!
Hormone Panel Comprehensive – Female
Hormone Panel Comprehensive – Female: Panel of 9 core female hormone tests, analyzing the specimen for each hormone's levels, all in one test. Specimen Type: Blood
It's easy as 1-2-3..
Choose
Location
Schedule
Appointment
Get Results
Quickly
Female Health & Wellness Lab Testing
Prevention is always the best cure – this is why every health expert recommends closely monitoring your well-being, starting from a young age. The right screening tests taken regularly can make a massive difference to your health, and our team of experts at Test Smartly Labs is always here to guide you in the process of taking control of your health.
As women lead increasingly hectic lives professionally and personally, paying close attention to one's health is often challenging. This article is meant to offer crucial information on women's health in particular, as some conditions affect women disproportionately. Lab tests can help identify, prevent, and monitor these conditions, as long as they're performed regularly at a trusted laboratory.
Hormone Testing, Pregnancy, and Menopause
Hormones are responsible for regulating a lot of processes that happen in the body. While it's normal for them to shift at different periods of your life (especially due to menstruation and lifestyle), a long-lasting imbalance may cause serious side effects or indicate health issues.
When it comes to your general well-being, it's crucial to know your hormone levels – and a blood test can reveal an abundance of vital information about what is going on inside your body. The primary purpose of women's hormone testing is to diagnose a hormonal imbalance (that can occur for a variety of reasons) or to monitor the effectiveness of treatments that can be used to correct these hormonal imbalances. Women's hormone tests can diagnose hypothyroidism, fertility issues, polycystic ovary syndrome (PCOS), diabetes or perimenopause (the months or years leading to menopause).
The most common hormones evaluated are Estrogens (estradiol, estrone, and estriol), Progesterone, Testosterone, along with Thyroid hormones. The most common causes of hormone testing for women are the following:
Unexpected weight gain, joint pain, muscle pain, dry hair and skin, irregular menstruation – all of these symptoms being associated with hypothyroidism;
Difficulty conceiving or inability to carry a pregnancy;
Irregular menstruation, acne, weight gain, excess of facial hair (associated with PCOS)
Lack of period, night sweats, hot flashes – associated with menopause.
For example, low estrogen levels can be caused by certain medications, PCOS, hypopituitarism, low testosterone, eating disorders, or low body fat, while low progesterone levels may indicate infertility or can be used to assess the risk of miscarriage. In some cases, women at risk of preterm birth may be given a synthetic form of progesterone to prevent early labor. Regarding testosterone (the male sex hormone also produced by women), high levels may lead to irregular or missed menstruations, weight gain, infertility, development of male traits, hair loss, acne, or PCOS.
High testosterone levels may be caused by ovarian cancer and anabolic steroid consumption. Complications can be prevented by detecting abnormalities promptly – and hormone testing is a simple procedure that requires a small sample of blood. If a couple decides to conceive, there are lab tests that determine if the woman is ready to get pregnant, such as Female Fertility Profile Comprehensive and Female Fertility Profile Ultimate. Prenatal tests screen and diagnose problems that may affect the mother or the baby's health, while others are ordered to detect and address issues that appear during pregnancy.
For Hormone Testing, contact Test Smartly Labs today…
Information On This Topic
Thyroid Lab Testing for Women
Hypothyroidism develops when a woman has an insufficient amount of thyroid hormones in her bloodstream. Symptoms include weight gain, weakness, depression, dry skin, thinning hair, fatigue, and heavy or irregular periods. In some cases, hypothyroidism is caused by the inflammation of the thyroid gland (which sometimes occurs during pregnancy, viral infections, or autoimmune disorders).
Of course, weight gain/loss and fatigue can't automatically be blamed on the faulty thyroid. However, if your lifestyle is balanced and you haven't made drastic changes in your workout/nutrition routine, yet you've shifted away from a healthy weight, it may be a strong indicator of thyroid irregularities.
The best way to initially test thyroid function is to measure the TSH level in a blood sample – which serves as an early warning method. For example, a high level of TSH indicates that the thyroid gland is not making enough thyroid hormone, while a low level indicates hyperthyroidism. Other forms of thyroid hormones evaluated during a thyroid lab screening include T4 and T3.
Heart Health and Cholesterol Testing for Women
As heart disease is the number 1 enemy of American women, monitoring your heart's health should be your number 1 priority. A woman's blood offers plenty of clues about her heart's health and is closely linked with her cholesterol levels. For example, a cholesterol test measures the fats in the patient's blood, revealing the risk of heart diseases or even heart attacks. A high level of cholesterol can indicate a high risk of heart disease, while LDL (low-density lipoprotein) cholesterol can reduce blood flow and lead to significant heart and blood vessel problems. High triglyceride levels usually indicate that the person usually eats more calories than they burn. The optimal levels of each cholesterol compound differ based on the patient's sex, but the blood sample taking process is identical.
Complete Metabolic Panel for Women
The Comprehensive Metabolic Panel (CMP) includes a series of blood tests that give essential information about the body's chemistry and the way it uses energy (the metabolism), and it's recommended as part of the yearly check-up. The CMP reveals information about how your kidneys and liver are working, the blood sugar and electrolyte levels, how much protein is in your blood, and if your metabolism is functioning properly. Abnormal results can indicate a problem that needs to be addressed and tested further. The CMP includes the following tests: glucose, calcium, proteins (albumin – which makes up about 60% of the total protein in the blood, total protein level), electrolytes (sodium, potassium, bicarbonate, chloride), kidney tests (blood urea nitrogen, creatinine), liver tests (alkaline phosphatase, alanine aminotransferase, aspartate aminotransferase, bilirubin)
For example, kidney function tests usually require a urine test and a blood test that can detect early signs of disease, evaluating ACR (albumin to creatinine ratio) and GFR (glomerular filtration rate). GFT is performed through a blood test, while ACR is a urine test. The blood test measures creatinine, a waste product that comes from muscle tissue – the creatinine result is evaluated, taking into account your age, race, and sex, telling your healthcare provider how well your kidneys are working. The urine test called ACR tests your urine for albumin, a protein that belongs in the blood. Having this protein in your urine typically means that your kidneys are not filtering blood well enough and indicates kidney disease.
Women who experience high blood pressure, blood in the urine, frequent need to urinate, painful urination, limb swelling, or difficulty beginning urination, should schedule a kidney function tests as soon as possible. One single symptom is usually fine, but when more occur at the same time, lab testing indicates the reason.
Apart from these significant indicators of a woman's well-being, there are a few other screening tests that should be on your radar in order to detect early signs of cancer, osteoporosis, and other conditions, regardless of your age. Mammograms, tests for cervical cancer, colonoscopies, and tests for skin cancer and osteoporosis should be done regularly to prevent complications. Always keep in mind that prevention is always better than cure, and you deserve to be in full control of your well-being. At Test Smartly Labs, you can always count on our team of experts to support you in understanding your body, identifying red flags on time, and achieving optimal health.
Creating A Healthy Work Environment
It won't be too hard to believe that employees are quite interested in workplaces that focus on sustaining healthy, happy employees. They like to know that you are investing in them as they are going to in your business. By considering mobile lab testing services and on-site testing to conduct health screenings, you make it easy for your employees to remain on top of their well-being.
Companies offering mobile drug testing services can gather and screen urine, saliva, nail, and hair samples from applicants and employees, and manage the drug testing program. Samples don't have to travel for screening and results can be given immediately. Considering this fact, your employees won't have to leave the workplace and travel for screening.
This is one of the things that many employees would be grateful to have. It portrays a depiction of an employer who comprehends their motivations and is ready to help them create a work environment according to their needs.
Reasons for utilizing Direct Access Testing for Convenience, Savings & Choice
Testing Smartly Labs offers affordable, secure, and simple Direct Access Testing (DAT) for hormones in both males and females. Direct Access Testing is a cost-effective alternative for hospital or medical clinic lab testing which allows consumer privacy, convenience, and consumer self-empowerment.
Testing Smartly Labs partners with only the top diagnostic laboratories and they are current and newest testing methods and services available. Through Direct Access Testing, we are able to offer each individual, interested in taking their health and wellness into their own hands, the discount online blood tests, direct access laboratory testing as well as confidential results that they are looking for.
Individual Hormone Tests vs Panel Hormone Tests
Testing Smartly Labs offers many convenient combinations of individual Hormone lab tests and Hormone Lab Panels for both men and women. Our hormone tests can help you understand your hormone levels without the additional expense of seeing a doctor without having your lab test results in-hand. You should always have your doctor or medical professional review your labs in order to diagnose a disease or recommend a course of treatment.
Be prepared for your drug test!
Bring your Government Issued Picture ID
Bring Drug Test Paperwork or Authorization
Complete TSL Intake Form & HIPAA Disclosure
Pay for your test on site
Make sure you are hydrated if you are performing a Urine Test
Expect to have your nail polish removed if getting a Nail Drug Test
We do not need your prescription information but a Medical Review Officer (MRO) may contact you after collection to verify your medications.
For urine testing, plan on arriving 3 hours before we close (1 hr minimum) to provide a cushion of time for a shy bladder situation.
For hair testing, be sure to dry your hair completely before arriving.
For nail testing, be sure to clean your nails with soap and water before arriving. Also, artificial nails and polish must be removed.
What Are Your Hours?
All Test Smartly Labs are open Monday through Friday, from 9am - 5pm
The Overland Park Testing Center is also open from 9am – 1pm on Saturdays
Do We Need To Have An Appointment?
No appointment is required to come into our labs, and all of our locations are on a walk-in basis. However, it is recommended you arrive at least 30 minutes prior to closing. If your situation requires special time considerations, please call us to determine if it would be better to arrange an appointment time.
Do I Need Doctors' Orders For Testing?
No doctors' orders needed, we are a Direct-Access Testing Center. You are encouraged to consult your medical professional with your lab test results.
What's The Turnaround Time For Lab Work?
Average turnaround time is 2-5 business days depending on the complexity of the lab work. Most tests are available in 2-3 days.
Do You Need A List Of My Medications For A Drug Test?
Per protocol, the lab techs are not allowed to receive or ask for your medications. A medical review officer or MRO, a licensed physician who specializes in toxicology, will call you and ask for your medications and your physician's phone number if it's detected in your sample during testing. The MRO will then call your physician to verify your medications.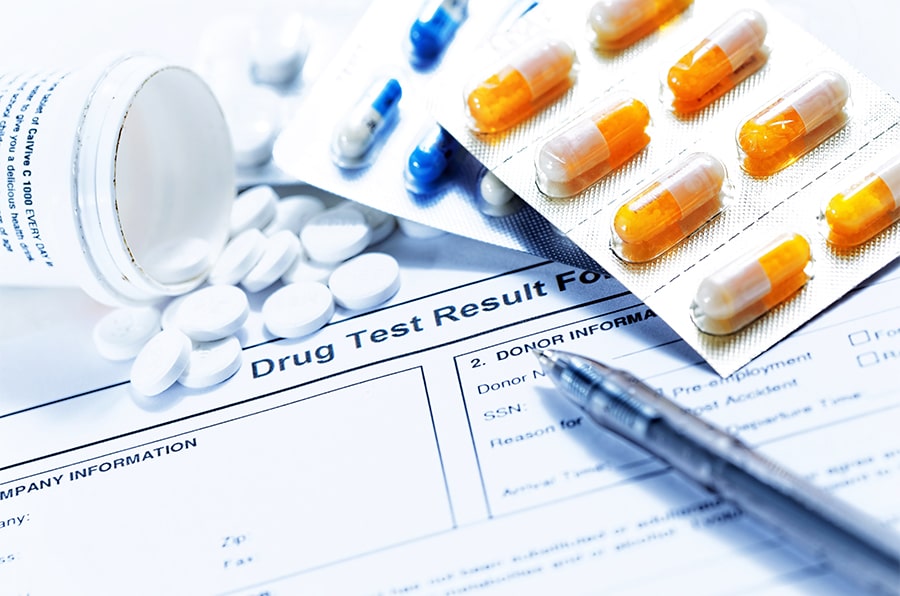 Hormone Testing for Women
Hormone testing indicates whether a female has the right levels of hormones in her system. The perfect or optimal level of hormones falls within a range. However, how body changes in response to certain increases or decreases in hormone levels are enough to indicate the well-being of our bodies. One such test is 'Hormone Blood Test Panel" which is a very reliable and accurate test. With a blood test panel, you can look at your estradiol, progesterone, and testosterone levels. Women may also want to check their hormones for follicle-stimulating hormone (FSH) which is a test that helps to indicate the menopausal status of the women and especially for women who do not have a uterus and thus cannot tell by their menstrual pattern if they are menopausal. Women should also consider getting testosterone level test if they are observing symptoms like increased body hair, muscle mass, and strength since these traits and hormones level is more in males than females.
Find your nearest location
Kansas City

Test Smartly Labs of

Kansas City

3917 Broadway Blvd, Suite A
Kansas City, MO 64111
United States

Opening Hours :
Mon - Fri : 9am - 5pm | Sat - Sun : Closed