Weight Management Lab Testing Is Important
With the start of every New Year, a lot of people start to go to the gym and care more about losing weight and their overall fitness. But as the year progresses, the motivation can wane or completely die out.
However, many motivated and driven people still keep going and pushing themselves to do better. In any case, knowing about your body helps you a lot when you need to keep yourself fit and if you want to lose some weight as well. The reason being, when you know about where you stand in terms of numbers. You can set targets to achieve your goals.
Just checking your weight and body mass index is not enough as far as knowing your body is concerned. Blood tests give you a more in-depth and thorough knowledge of what your body's exact numbers are and this way better goals can be set for your year. Weight alone is not a great indicator of one's overall health or fitness level. Even better is the routine monitoring of your lab test results as your fitness improves and your weight drops. You should start with baseline testing of A1c, Cholesterol, CBC, CMP and Vitamin levels. Then monitor your metabolic levels as you continue your fitness regimen. This can keep you motivated throughout the year because each time you get your test results, you can have an idea of your metabolic improvements and how your fitness routines affect those results. Hence making your workouts passionate, driven and outcome-based.
Professional sportspeople are known to have blood tests on a routine basis to keep themselves in check and to keep their bodies in the top condition for sports and competitions. This helps them maintain their peak condition in a better way because they have more insight into their body as compared to regular people seeking fitness.
Alcohol And The Workplace
While you'd like to think "not me… not my employees or my workplace," this is a dangerous thought. Just take a look:
"Rates of past month heavy alcohol use ranged from 17.5 percent among workers in the mining industry to 4.4 percent among workers in the health care and social assistance industry." source: SAMHSA study
Mining, construction and food service industries have the highest percentages of workers who claim to heavily drink alcohol.
Teenage Alcohol Testing
Alcohol is the #1 substance most widely used and abused by teenagers. According to the 2016 Monitoring the Future study,
"Six out of every ten students (61%) have consumed alcohol (more than just a few sips) by the end of high school, and about a quarter (23%) have done so by 8th grade. In fact, nearly half (46%) of 12th graders and one in eleven (9%) 8th graders in 2016 reported having been drunk at least once in their life."
Test Smartly Labs can help you determine if your teen has been drinking alcohol. We offer a variety of options when it comes to alcohol testing. Contact us to learn your options.
Be prepared for your drug test!
Bring your Government Issued Picture ID
Bring Drug Test Paperwork or Authorization
Complete TSL Intake Form & HIPAA Disclosure
Pay for your test on site
Make sure you are hydrated if you are performing a Urine Test
Expect to have your nail polish removed if getting a Nail Drug Test
We do not need your prescription information but a Medical Review Officer
(MRO) may contact you after collection to verify your medications.
For urine testing, plan on arriving 3 hours before we close (1 hr
minimum) to provide a cushion of time for a shy bladder situation.
For hair testing, be sure to dry your hair completely before arriving.
For nail testing, be sure to clean your nails with soap and water
before arriving. Also, artificial nails and polish must be removed.
What Are Your Hours?
All Test Smartly Labs are open Monday through Friday, from 9am - 5pm
The Overland Park Testing Center is also open from 9am – 1pm on Saturdays
Do We Need To Have An Appointment?
No appointment is required to come into our labs, and all of our locations are on a walk-in basis. However, it is recommended you arrive at least 30 minutes prior to closing. If your situation requires special time considerations, please call us to determine if it would be better to arrange an appointment time.
Do I Need Doctors' Orders For Testing?
No doctors' orders needed, we are a Direct-Access Testing Center. You are encouraged to consult your medical professional with your lab test results.
What's The Turnaround Time For Lab Work?
Average turnaround time is 2-5 business days depending on the complexity of the lab work. Most tests are available in 2-3 days.
Do You Need A List Of My Medications For A Drug Test?
Per protocol, the lab techs are not allowed to receive or ask for your medications. A medical review officer or MRO, a licensed physician who specializes in toxicology, will call you and ask for your medications and your physician's phone number if it's detected in your sample during testing. The MRO will then call your physician to verify your medications.
Exactly which Blood Tests?
So, now the question arises that what blood tests should you do to get a better idea of your fitness?
Starting off, a liver profile is at the top of the list, because it essentially controls the toxicity of your body and assists in getting rid of fats. The test recommended are AST, ALT, and GGT.
Moreover, cholesterol tests can help you to determine the cholesterol levels of your body. This one is not only significant for your weight loss but can be critical for overall health especially heart health. The tests recommended are Total Cholesterol, Triglycerides, HDL, and LDL.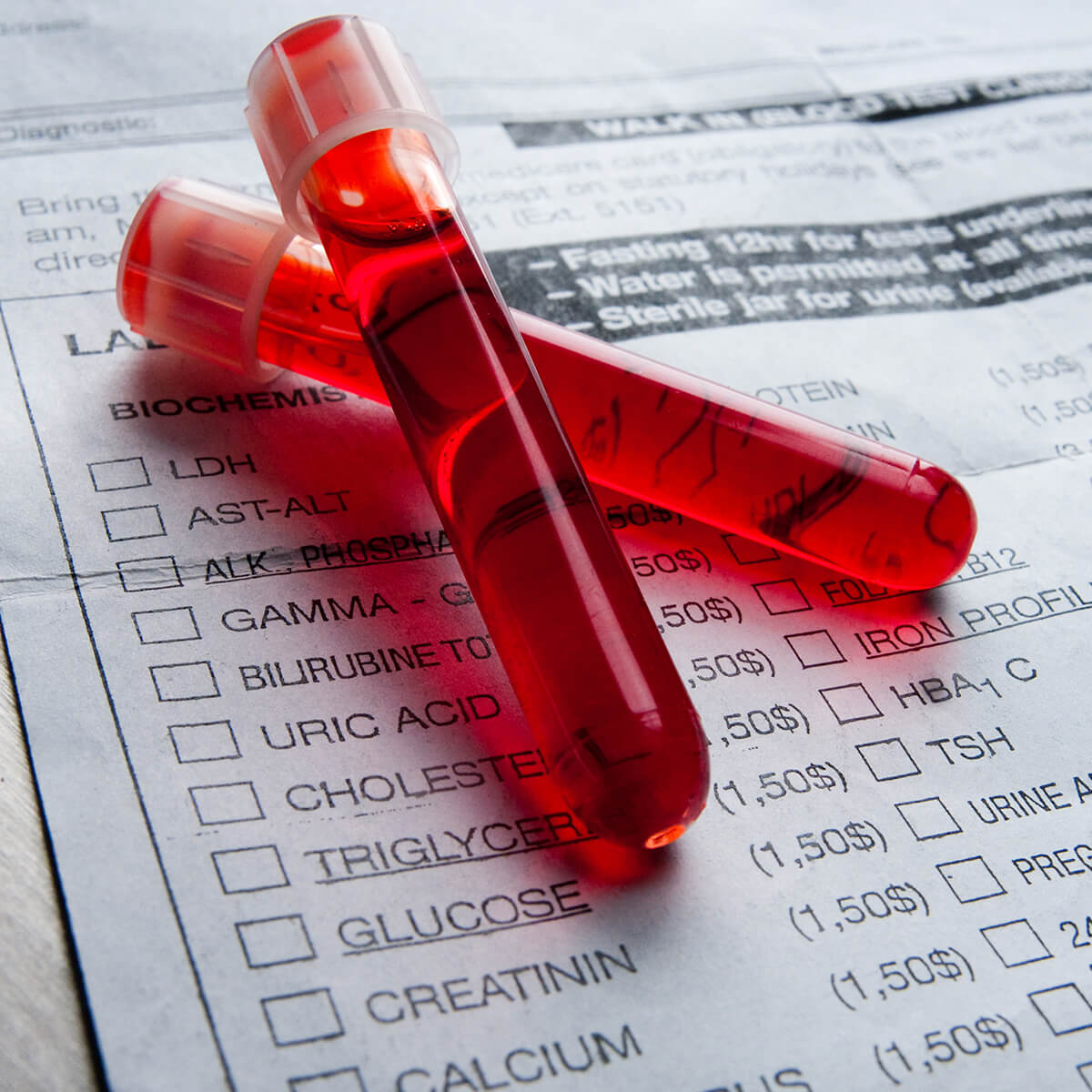 – Complete Blood Count (CBC)
Blood consists of RBCs, WBCs, and platelets. The balance of each one of these components is critical. Alternatively, the imbalance can cause bodily functions to be suboptimal hence gaining weight. The recommended test is CBC.
Next up, is testing for diabetes, essentially checking the insulin and blood glucose levels of your body. Insulin is directly related to the fat contents of your body so keeping it in check in crucial. The basic test for this purpose is A1c or Fasting Glucose as a measure of blood sugar.
Assessing the levels of testosterone can help get an idea of the body. Overweight men have a bad effect on testosterone while higher levels of testosterone in women can be a hindrance to lose weight. The test is named as total testosterone.
And finally, get your test results for levels of iron as well because your metabolism depends on these numbers and metabolism is the ability of a body to perform any function. Tests for Iron look for ferritin, hemoglobin, or total iron-binding capacity.
Knowledge of these results can help you better maintain your diet along with your exercise routines. Just show these results to any dietary expert or physician and they will help you to figure out the best diet for you as per your results. In addition to this, these results can also help you highlight any serious concerns that your body may have. Instead of finding out in the long term when you are hit with a more serious problem, it is better to find out earlier. As the saying goes, Prevention is better than Cure.
Test Smartly Labs can provide your blood work testing at affordable prices, we care for our customers' needs and provide them with as much information as possible, so that they can have the best experience possible.
Contact Test Smartly Labs today…
Find your nearest location
Kansas City

Test Smartly Labs of

Kansas City

3917 Broadway Blvd, Suite A
Kansas City, MO 64111
United States

Opening Hours :
Mon - Fri : 9am - 5pm | Sat - Sun : Closed